Fox Film of Brazil shared the first poster of The Terminator
Dark Destiny, the sixth film of the assassin robots franchise in the service of the Skynet artificial intelligence. The film marks the return of James Cameron (who directed the first and second films in the 1980s and 1990s) and Linda Hamilton (who lived Sarah Connor in the first two films).
With the mission to save Dani Ramos (Natalia Reyes), the newest heroine and protagonist Grace (Mackenzie Davis) will have the help of Sarah Connor. A new Terminator (Gabriel Luna) chases the group, who ends up asking for help to the original android.
Since its release in 1984, the franchise is in its sixth film, this time directed by Tim Miller (Deadpool). In addition to the trailer, Destino Sombrio also had its poster revealed, with Hamilton walking down a street in the middle of a desert, holding a bazooka (more badass impossible). The subtitle says: "Welcome to the day after the Last Judgment", in free translation.
The Terminator
Dark Destiny is directed by Tim Miller (Deadpool) and produced by James Cameron and David Ellison. In the cast are confirmed Linda Hamilton; Diego Boneta (as Miguel Ramos, brother of Dani Ramos); Natalia Reyes (Dani Ramos, the young girl hunted by the Terminator); Gabriel Luna (as the Terminator); Arnold Schwarzenegger (reprinting his role as the Exterminator "of the good" T-800) and Mackenzie Davis (that gives life to Grace. A hybrid soldier between human and exterminator, sent of the future to protect Dani Ramos).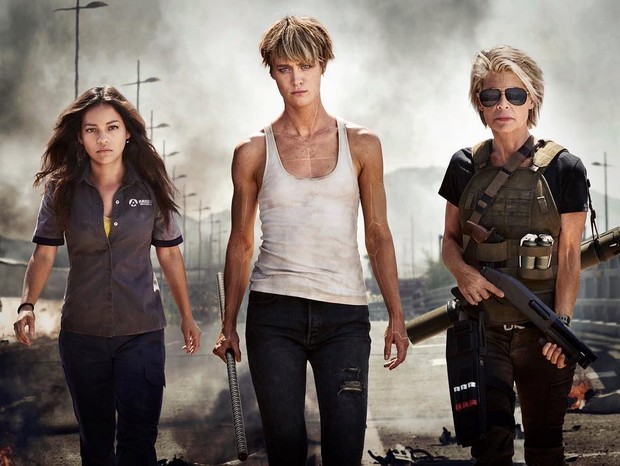 Other production names include Enrique Arce, Jude Collie (who will live John Connor) and Stephanie Gil (as a younger version of Grace). The film will use CGI features to superimpose on "John Connor" faces to reflect the appearance of Edward Furlong. Who lived the character in Terminator 2 and Schwarzenegger, who will again feature Brett Azar as stunt double for the action scenes.
Terminator: Dark Destiny, which still features Diego Boneta and Björn Freiberg in the cast. Arrives in Brazilian cinemas on October 31.